WB - SV CHARACTER TEST VIDEO
English translation Lumbar-Sacral Transitional Vertebrae/LÜW, Dr. Bernd Tellhelm
WHAT DOES THE TERM ENGAGEMENT MEAN ?

Acting in a manner to draw favorable attention or interest

There are different types and levels of engagement. Taking the time to cultivate active engagement is beneficial to the dog-handler relationship. Environment is the number one reason dogs fail to engage. Try to select the least stimulating environment for training.
Always set your dog up to have success, rather than overwhelm him with distractions. Initially, it is important to use natural, voluntary focus. Find a place where you can safely have your dog off-leash without interruption of distractions. We expect our dogs to be fully engaged, therefore we must do the same. Do not be distracted by family/club members asking you questions or wanting to talk with you while you train. Always stop before the dog loses interest. Remember, we have to work on the dog's timetable, not ours.
Do not correct for lack of engagement, you will experience failure. During all engagement work you are teaching him to become willing, happy, and enthusiastic. Remember engagement is about the dog voluntarily participating and forming meaningful connection with us. Which in turn means, he has the option of saying "no".
If your dog is on leash you will find yourself tempted to correct the dog for losing focus. Keep your hands free, if your dog is repeatedly failing to engage, then stop and re-evaluate your situation.
Too many distractions? Not enough acclimation time? Nervous, anxious or overstimulated? Did he not get enough time to acclimate? Was the environment too distracting? Were you too overpowering? Were you asking for too much?
If he's not wanting to engage, then he doesn't get to work.
Young dogs are curious and excitable. They need a chance to look around. Do not take them from the crate and begin training. Allow the dog a chance to acclimate. When the dog starts offering eye contact, then move into engagement. Keep the sessions short,1 minute or less, especially when working with young dogs and puppies. It is better to do several different sessions over the course of the day, keeping them short and successful.
Movement is crucial to engagement. When the dog is engaged, you are constantly moving with the dog, such as drawing the dog toward you while you move backwards, walking together, etc. Standing still becomes a signal for the dog to start engagement. While standing still, this becomes beneficial in the trial setting since every obedience exercise starts with a stationary basic position
Match your dog's drive/energy. If your dog's energy level is mediocre and you try pumping him up by enthusiastically whipping the ball around, you may overwhelm the dog and create a reactive form of engagement. i.e. toy-based instead of handler-focused.
Match his energy, then progress through the engagement process slowly by increasing your energy and enthusiasm, thus encouraging the dog to increase his.
Focus work teaches the dog that turning his attention to you is highly rewarding and enjoyable. Creating focus work and games help to lay the foundation for engagement.
Eventually, we must teach the dog that focus is rewarded even when we don't have food or toys on us. Our first impulse is to show the toy or food to the dog and then to start the game. Many times, the dog won't focus once they don't see the ball. To prevent this, we start hiding reinforcers where the dog beings to offer eye contact for engagement.
Teaching your dog RESTRAINT methods
restraints for dogs
Beware of the Breeder who uses the terminology:
German Bred, German Lines, Schutzhund, DDR, V rated
The Requirements of a Breeder to follow the German program is:
A breeder is required to show their dogs at a German Style Conformation Show to obtain conformation show rating. Those breedable ratings include; V, SG or G


A Breeder must obtain a working dog title [SchH, IPO, IPG] minimum IPO1

All breeding dogs must have clear hip and elbow ratings either "a" Stamp or OFA

Prior to the Breed Suitability Test the dog must achieve an AD [12mi endurance test]

The elite breeding dogs will have a Breed Suitability Test [Koer]
Ask the breeder to see the dogs Koer report (breed suitability test) Scorebook which will confirm the working title and the Show Card which rates the conformation/structure
If the Breeder cannot produce these documents ~ Beware

The key to finding the right breeder is to first educate yourself. There are many dishonest breeders who use terminology and words to mislead the public. The only accurate way to learn about German Bred dogs, German breeding programs, German style Shows and Trials, is to spend time with people who actually are involved in the sport of Schutzhund and competing with their dogs. Gather information from as many different dog enthusiasts and professionals as you can. Visit shows, trials, clubs, and traning facilities. Become informed
Don't be scammed by those backyard breeders
Michele Scarberry
United Schutzhund Clubs of America, National Breed Warden
What the abreviations on your pink papers/pedigree mean
SchH - Schutzhund "Protection Dog"
In 2012, International rule standardization has changed the name "schutzhund" to IPO (International Prüfung/International Test) Once again the Commission has altered the name to IGP (International Gebrauchshund Prufung/Utility Dog)

BH - Begleithund "Companion Dog"
SchH1/IPO1 - Entry level title; Tracking, Obedience and Protection
SchH2/IPO2 - Intermediate level title; Tracking, Obedience and Protection
SchH3/IPO3 - Advanced level title; Tracking, Obedience and Protection
SchHA/APR1 - Obedience and Protection tests - No tracking
APR2 - Obedience and Protection tests - No tracking
APR3 - Obedience and Protection tests - No tracking
VPG - Vielseitigkeitsprüfung für Gebrauchshunde "Versatility Test for Working Dogs"
FPR1-3/TR1-3 - Tracking phase title, without obedience or protection
UPR1-3/OB1-3 - Obedience phase title without tracking or protection
SVV/ZVV/BHP- Working dog tests in other countries; SVV (Slovakia), ZVV (Czech Republic) BHP (Denmark)

AD - Ausdauerprüfung "Endurance Test" = 12 mile run
FH/FH2 - Fahrtenhund "Advanced Tracking Dog"
HGH – Herdengebrauchshund "Herding Dog"
WH - Wachhunde "Watchdog" Basic obedience and guarding
RH - Rettungshundtauglichkeitsprüfung "Rescue Dog Suitability Test" Tracking, Obedience and Conditioning /endurance
STP – Stöberprüfung "Random Search Test" Random article search within a prescribed area. Three levels of increasing difficulty (STP1, STP2, STP3)
KK - Körklasse Breed Suitability "approved for breeding"
American Working Dog (AWD) title utilizes rules from the original schutzhund test which were eliminated/changed in recent years
AWD1 - Entry level Tracking, Obedience and Protection
AWD2 - Intermediate level Tracking, Obedience and Protection
AWD3 - Advanced level Tracking, Obedience and Protection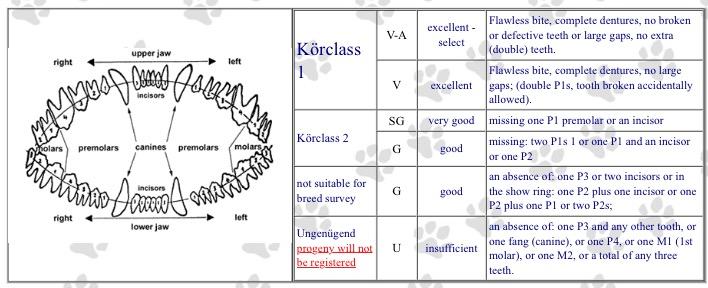 Correct dentition for GSD
---
WHY WOMEN SHOULD HAVE A PERSONAL PROTECTION DOG

How many times have you chosen not to go somewhere? To not take a trip by yourself, to not go for a walk or run, to not bike or go hiking because you worry about safety. What about feeling secure in our own home, or about the security of your children playing in their own yardsYour awareness of surroundings and good judgment are the basis for the first line of defense. There are options for personal protection; mace, tasers, self-defense techniques, all of these requires close contact with the aggressor. A personal bodyguard may be doable, but is costly and usually not available 24 hours a day, 7 days a week, and could intrude on your privacy. In essence, making your home a fortress could make you feel like a prisoner. Using a handgun even with proper training and mental preparation is valuable, however, if you do shoot someone, can you face the mental anguish and legal aftermathMany women work as CEO's, executives, athletes, and students, some are single, some married, some are mothers, and grandmothers. Regardless, women and children are frequently the target of violent crimes.We are taught to avoid dark, deserted alleys, parking areas, hiking, biking and running paths. We are taught to travel within the security of a group or with men. News media is filled with investigations where children and adult women were taken from the safety of their homes, their front yards, pulled from the hands of friends, sexually abused and murdered
The next time you feel vulnerable, consider how a personal protection dog could give you peace of mind, security, and devoted companionship
Consider Protection trained dogs for these reasons:
The dog can alert you to danger before you even realize it exists
The dog will function on its own allowing you the opportunity to distance yourself or escape immediate threat
The dog can wake you during the night and scare off an intruder
The dog can search your home, hotel room, car, or surroundings before you even enter
A dog can travel with you domestically and internationally and provide security, especially when you are not permitted to carry a weapon
A dog can be ready when you're not, or when you do not have time to access to a weapon
A dog can inflict injury on an aggressor's attack, without causing death
A dog will face an aggressor immediately without hesitation or fear
A dog will deter threats just by its presence
But most importantly, dogs are wonderful companions, loyal and trusted members of your family
Guild of Shepherds & Collies

How Children Can Benefit from Dog Sports

Author:

Michele Scarberry

/

Friday, September 11, 2015

/

Categories:

Article

Most sports are essentially about speed, strength, coordination, vision, creativity, and responsiveness. Sports offer our Youth an arena where they can exert their natural abilities and engage in all facets of life. Sports give children a satisfying and enjoyable way to develop their own talents, and the participants benefit by gaining self-esteem and self-confidence.

Sports help children learn to distinguish between effort and ability, through increasing self-discipline, and making them aware of the value of preparation. Participants learn to manage their time productively and learn the fundamental lesson of sacrificing immediate gratification for long-term gain. Children learn how rules work, and those groups need rules to keep order.

The choices in dog sports and recreation are endless, plus dog sports are great options to keep active dogs both physically and mentally healthy. All dogs need exercise, and very active dogs are excellent candidates for high-performance sports like ours.

Conformation is a competitive dog sport where purebred dogs are presented in a dog show and judged for their consistency within the breed standard. Conformation shows are designed to present a dog with ideal characteristics of their breed, and knowledgeable and experienced judges assess the dog's physical characteristics, gait, and temperament. The goal is to maintain the highest standards of the breed in order to ensure future of the breed remains of the highest quality and genetic issues are minimized.

Herding is a dog sport which utilizes an instinct within the dog. Because some dogs live in urban areas rather than farms, the opportunity to herd is not presented. Training and herding trials are great ways to let them act out on instinct and have fun. Trials involve the dog, a group of animals (often sheep or ducks), handlers and judges. The handlers give commands and the dogs work by following the direction. Sometimes, even some non-herding dog breeds will show an instinct for herding.

Tracking also utilizes an inborn sense. You probably have noticed that your dog's nose is his most dominant sense. Most dogs want to follow their noses. So, why not turn this talent into a fun and a challenging activity? A tracking trial is a type of test that requires a dog to follow a scent. These events mimic Search-and-Rescue missions, assessing the dog's natural ability and willingness to follow a track/trail left by human footsteps. Dogs and their handlers often enjoy this work and success can open doors to pursue real life Search-and-Rescue work, or various avenues of detection work.

Obedience is fun and challenging, teaching the dog to reliably respond to basic commands such as "sit", "down", "come", and "stay", to high level competition. The dog/handler teams must complete a course made up of heeling, turns, pace changes and stops. Obedience rules tend to be strict in obedience competitions. Jumps and retrieving are included. The sport of obedience is open to all breeds, and the trials have several levels, which the teams compete for titles and championship recognition.

In order to stay healthy and fit, we all need to exercise regularly. Dogs are no exception. Give your dog as much exercise as it wants, but watch closely for signs of exhaustion as heavy panting, wheezing, lameness, and slowing or stopping to lie down during activities. Be sure your dog has access to fresh, cool water at all times.

There are many activities you can do with your dog while exercising at the same time. Walking, running, hiking, biking, swimming, or playing fetch. Some activities provide more exercise for your dog than for you, but are still a fun way to bond.

If you decide to be competitive in a sport, you are known as an athlete. An athlete learns the importance of being prepared both mentally and physically. You understand that physical talent is not always sufficient to win, but that preparation is essential. Another invaluable lesson is discovering that mistakes are part of learning, and that if a particular approach is unsuccessful, then and you must try another.

Becoming an athlete, you will learn to deal effectively with criticism, because you know it's a part of improvement and preparation. Research demonstrates that children who participate in organized sports do better in school, have better interpersonal skills, are more team-oriented, and are generally healthier.






Progesterone levels and breeding explainedby Dr. Lori Hunt DVM, Center West Animal Hospital



The progesterone test is not species specific so the test can be run in human labs or veterinary labs. Results should be available in less than 24 hours.

The progesterone test can be done every 2-3 days starting about 3-5 days into the heat. Timing of the test can be more certain if the lengths of the dog's previous heat cycles are known. The beginning progesterone levels are typically less than 1.0 ng/ml until the day before the LH surge. The day of the LH spike, serum progesterone concentrations are 2-3 ng/ml; the day following the LH surge, the serum progesterone concentration is 3-4 ng/ml. Ovulation occurs at a progesterone level of 5 ng/ml

Timing of breeding

The aim is to identify when the progesterone level reaches 2.5 ng/ml so the mating schedule can be set up, or the veterinarian and owner of the male dog can be notified that they should be prepared to collect and ship a semen sample. Depending upon the type of semen used, optimal times for natural or artificial insemination are:

Natural breeding should occur

3 days after the 2.5 ng/ml mark

. Sperm in fresh semen survive 5-7 days after insemination.

Artificial insemination using fresh chilled semen should be used for a 1-time breeding. Insemination should take place 4 days after the progesterone reaches the 2.5 ng/ml mark or 48 hours after the 5 ng/ml mark. Sperm in chilled semen survive 48-72 hours after insemination. With artificial insemination, the semen should be deposited into the cervix to increase the chance of it being drawn into the uterus.

Artificial insemination using frozen semen should be performed 5 days following the 2.5 ng/ml mark or 72 hours after the 5 ng/ml mark. Sperm in frozen semen survives less than 24 hours after insemination. Frozen semen is ideally deposited directly into the uterus through surgery to increase the chance of pregnancy.



The equation of dysplasia: P (phenotype)= G (genetics) + E (environment)

author Michele Scarberry, Radiology Technologist


Definition of canine hip dysplasia (CHD): a developmental defect initiated by the genetic predisposition to the subluxation (disloation) of a joint
The hip joint is a ball and socket joint. The socket or acetabulum, is situated within the pelvis, the ball or hip head, is located at the end of the femur (thigh bone). In a normal hip joint, the ball fits closely and deeply into the socket – both (ball and socket) rotate smoothly, are cushioned by cartilage and lubricated with a joint fluid (synovial). The better the fit of these parts, the less wear the joint experiences, and the longer it functions efficiently.
When the joint is loose, this causes abnormal wear of the joint components; this wear can distort the joint - leading to a degenerative joint disease (DJD) or arthritis. Hip dysplasia is a condition of abnormal development of - or within the hip joint, that results with joint instability (unsteadiness). The condition of developmental hip dysplasia can develop over the first few weeks, months, or years of a dog's life.
It is important to realize that the underlying factor, or causes for dysplasia are genetic biomechanics.
The genetic predisposition (tendency) for dysplasia causes the body react to certain diets, activities and environmental factors, which in turn - enhances the dysplastic condition. Several genes interact (polygenetic) to produce this condition, consequently making it difficult to isolate or eliminate that one particular gene.
When damage occurs to the articular cartilage, arthritis can develop. Damage can be caused by the inferior inherited biomechanics, or with Traumatic articular fracture through the joint surface. When cartilage is damaged, degradative enzymes are released through the joint surface into the joint.
These enzymes degrade and reduce the mixture of the important molecules that form hyaline cartilage called proteoglycans. This causes the cartilage to lose its thickness and elasticity.
Gradually, more debris and enzymes spill into the joint fluid and destroy molecules called glycosaminoglycan and hyaluronate that are important precursors that form the cartilage proteoglycans. The joint's lubrication and ability to block inflammatory cells are lost, and the debris-tainted joint fluid loses its ability to nourish the cartilage. The damage then spreads to the synovial membrane lining the joint capsule, and more degradative enzymes and inflammatory cells stream into the joint.
Full thickness and loss of cartilage allows the synovial fluid to contact nerve endings in the subchondral bone, resulting in pain.
In an attempt to stabilize the joint to decrease pain, the animal's body produces new bone at the edges of the joint surface, joint capsule, ligament and muscle attachments which results in bone spurs. The joint capsule eventually thickens and the joint's range of motion will decrease.
It is not uncommon for elbow dysplasia to occur with hip dysplasia; especially since dogs with hip dysplasia may experience an altered gait. Elbow and hip dysplasia can occur on one or both sides. The common symptom is a lameness that will shift the legs from a natural position, and cause a swaying gait.
Elbows subject to dysplasia and can be equally debilitating (incapacitating). Elbow dysplasia is a condition diagnosed as: ununited anconeal process (UAP). The elbow consists of three bones, the radius, and the ulna – which make up the forearm (ulna, being the longer of the two bones) and the humerus or upper arm. These three bones all fit together accurately to allow ease of movement. The upper end of the ulna (trochlea - a half moon shaped bone) has attached tendons, which act as a pulley. On the trochlea is a point bone called the anconeal process (facing into the arm) when the elbow is extended, the anconeal process fits into a notch at the lower end of the humerus called the olecranon fossa. This is a typical tongue and groove construction – both collateral (both sides) ligaments
stabilize the elbow in order to make movements backward and forward. As a puppy grows, the anconeal process should fuse (grow together) to the ulna, if the anconeal process does not attach naturally to the ulna, then the elbow becomes unstable; this instability results in bony changes.
Any dog, any breed, can develop this condition, dysplasia is not exclusive to just large breeds. The occurrence of dysplasia can be reduced through selective breeding practices, by selecting only animals that have disease-free radiographic examinations, and clear family histories of dysplasia free progeny.
Breeders, who are cautious about testing for the condition, help to decrease the occurrence by controlling environmental factors: i.e. diets, exercise and selective breeding pools.
Outside factors, which have been suggested as influencing the development of dysplastic components, are: overweight, extreme amounts of protein and energy rich foods, rapid growth rates, excessive exercise, or lack of exercise, and high calcium intakes. Studies have proven that mating only dogs with radiographically normal hips have noticeably reduced dysplasia.
Finding a Schutzhund Club
Michele Scarberry

Finding the right Schutzhund Club means that you should visit a few clubs before you discover the right club suitable for your goals

USCA affiliated clubs are operated as not for profit. That does not mean these clubs are free. Volunteers run the club. The club is a non-profit social club - whose primary purpose is to train and title the dogs. The volunteers involved with the club have real jobs outside of their club. They have jobs, families, animals to care for, plus other various obligations.

Clubs do not need new members. Clubs need the right members. Established clubs are not concerned about swelling their ranks with numbers; in fact, most clubs want to keep their membership small and manageable. They only add members when they find someone who is a right fit for their club. Someone who gets along well with everyone, who is supportive, encouraging, and like-minded in their goals.

Training Clubs are social clubs, not dog training businesses. For many clubs, their membership is family. A peaceful harmony is highly valued, therefore clubs may be selective about adding new members.

Club resources are limited. The Helper and Training Director can only work with so many dogs/handlers at one time. Many clubs maintain a small, close-knit group, and look for handlers that will fit within the club dynamics. Membership is a decision that involves the whole club. Membership is typically offered by invitation, if the individual fits the club dynamic, and the club feels this person would be a good addition to the family. This is what's most important: that everyone "fits" and gets along well, because you will be spending a lot of time together in this relationship. So if a club continually gives you the cold shoulder or never extends the offer of membership, they may not be ready, or interested in starting a new relationship at this time.

Just like everything else in Schutzhund, getting involved in a club requires patience, persistence, and dedication. Club membership is not like gym membership, where you can sign up at any time and use it whenever you want. Some Clubs may only open membership once a year.

Membership dues and training fees are used to fund the club's operating and event costs. Each club is different with fees and membership requirements. Most clubs will have a screening period for potential new members. Remember, our expectations of a business is; prompt service, treatment that caters to us in some fashion to ensure we become repeat customers, and a desire for our patronage.

Clubs are not businesses! A Training Club is a group of people organized around the common purpose of training and titling their dogs in Schutzhund/IPO.

Established clubs consist of:
Board of Directors

Training Director

Classified Helper

Active membership
Club Dynamics or the right club, will have the overall dynamics you seek. Goals, purpose, and the training that you desire. Your club is your support and encouragement.
The Training Director should have a good reputation with experience in the Schutzhund/IPO. The TD must have successfully trained and titled dogs.

The Helper should be classified. i.e. Basic, Club, Regional, National, or Teaching.
The right club may not always be the closest club to you. Clubs will vary in size from five to several members. Not all clubs have an established Helper, and rely on outside Helpers to train protection work. Becoming a member of a thriving club can provide the dog/handler team with a network of support and instruction, and gives you access to consistent training, trials, shows, seminars, and the camaraderie of common goals and interests.
Where to find the clubs in your area:
www.mideastregionusa.com
www.germanshepherddog.com
Club contact. Email the club contact listed on the website. Express your interest in visiting their club; provide a little information about yourself and your dog,

Visit the club, express your interest in attending training or observing a club trial or event. Politely inquire about club rules that should be observed. When you arrive, introduce yourself and don't be shy

Ask questions, mingle and observe training. Use conversations to connect with the people you may be training with.

Evaluate. Observe the dog/handler teams, and helpers as they work. Look for the answers to your questions. Try to gain a feel for the overall atmosphere of the club.
How to find the right dog for the Schutzhund sport